Geneva, March 2020 – Czapek & Cie unveils the Quai des Bergues Aurora Borealis and Blue Aurora, perfect illustrations of the brand's 'Horizontal Manufacture' and of the 'We Collect Rare People' concept. The unique guilloché pattern on their dials was created by the talented team of artisans of one of Czapek's partners Metalem.
Unveiled for the first time in Baselworld 2017, Czapek exclusive Ricochet® guilloché is inspired by an original design created by Francois Czapek in the 1850s. Its uniqueness is in the presence of two focal points corresponding to the signature Czapek subdials – indication of small seconds and power reserve. The intersecting lines create a mesmerizing 'wave interference' effect on the dial.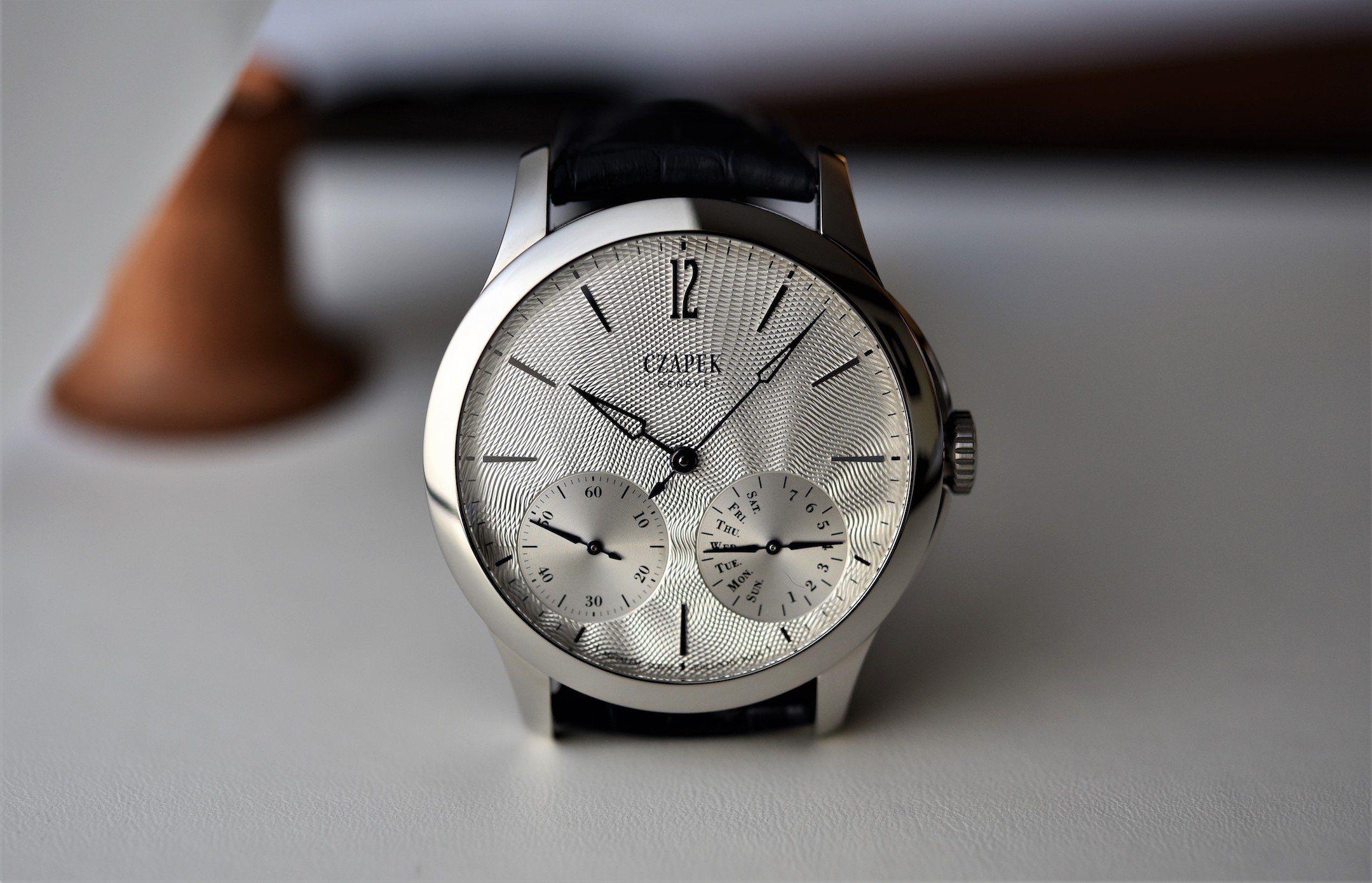 The guilloché Ricochet® pattern, registered by Czapek & Cie, has been developed by the Geneva-based Maison in collaboration with its partner Metalem, one of the best Swiss ateliers for handmade engine-turned dials.
The dials of the Quai des Bergues Aurora Borealis and Blue Aurora are an evolution of the guilloché Ricochet®. "The birth of this new guilloché pattern is unusual – explains Xavier de Roquemaurel – because this time its creation has been initiated by Metalem's team of artisans. Yann Tripet and his team were used to work on our Ricochet pattern, at some point they started experimenting with it, and among the trials, there was this exceptional design, looking like white waters. We were stunned by its beauty and decided to add it to our collection".
The Quai des Bergues Aurora Borealis comes with a 42,5 mm steel case and the bombé guilloche dial is
handcrafted on Czapek's 'secret alloy', made of gold, silver, palladium and platinum. The dial is available in two different colours, both refined and sophisticated: silver, for the Aurora Borealis, and, naturally, dark blue, for the Blue Aurora.
Both are equipped by Czapek SXH1 proprietary caliber, with two barrel springs delivering a 7-days power reserve, developed in collaboration with Chronode.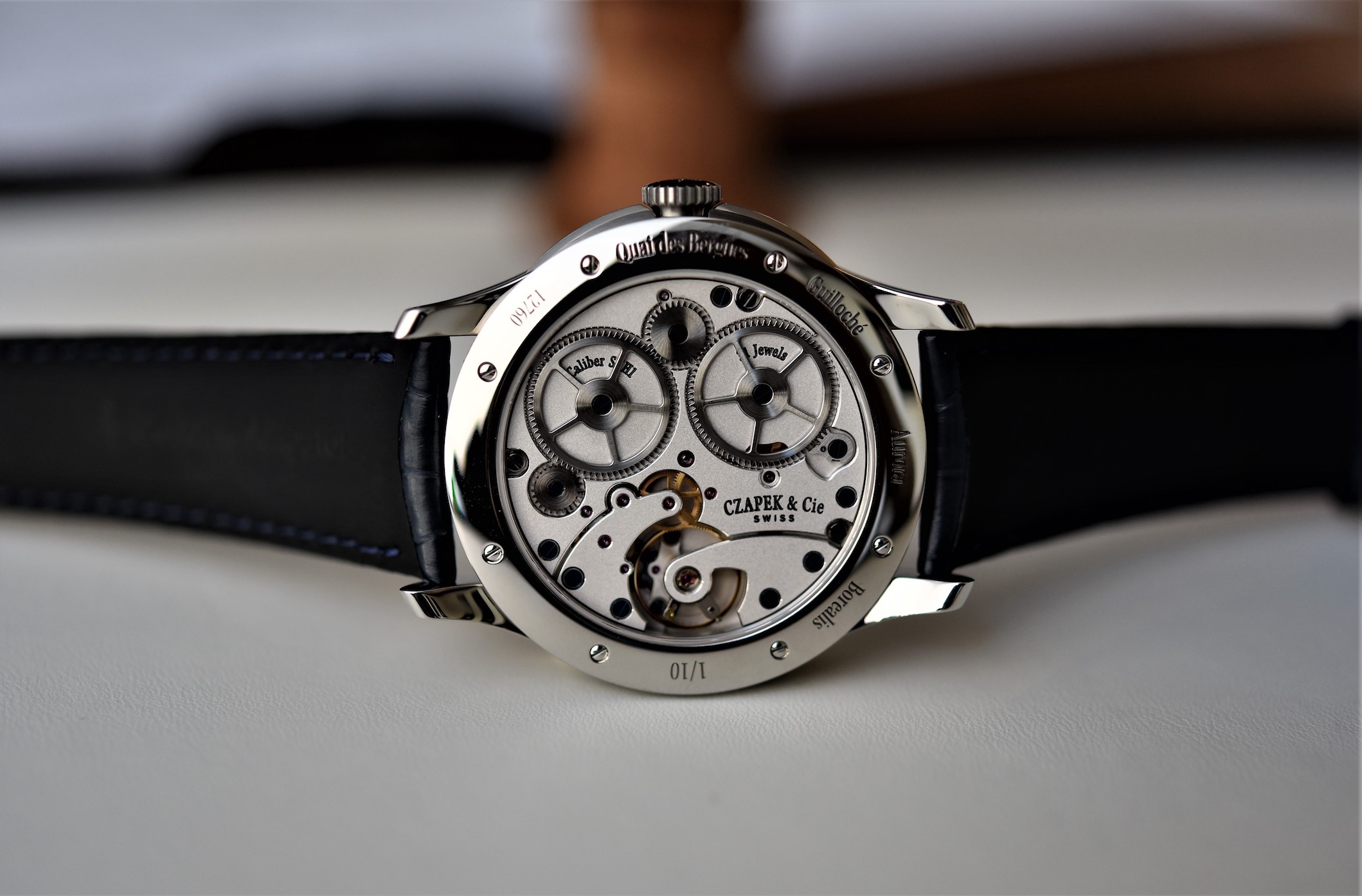 The two new models are limited to 10 pieces each. The 1/10 of the Blue Aurora has already been acquired by a watch collector on the occasion of a special event.The Quai des Bergues Aurora Borealis and Blue Aurora are the perfect example to illustrate not only the 'horizontal manufacture', Czapek's strong collaboration with the best Swiss craftsmen as at the origins of fine watchmaking; but also, the Maison's new communication concept 'We collect rare people'. The Aurora Borealis is the subject of the first mini-film of the We Collect Rare People campaign.
"At Czapek we collect rare people in the sense that our project aims to offer a platform for creation both to the best talents in watchmaking and métiers d'art and to watch lovers and collectors looking for something rare and unique", says Xavier.