We thought we knew all there was to know about this watch created in 1904 by Louis Cartier for his friend, Alberto Santos- Dumont, which allowed the aviator to read the time in flight.
The first modern men's wristwatch, it made its mark with a pure design incorporating a square bezel with visible screws. We knew, too, of the watch's symbolic strength – an accessory designed to go ever higher, always further. 
Nothing would have predicted what it had in store for us. Because in the power of its original design infinite possibilities are revealed; because its timeless shape never ceases to inspire Cartier for new interpretations. 
Today, Cartier is renewing its tribute to the dandy that was Santos-Dumont, and to the style he embodied, through the Santos-Dumont XL watch.
This set of three watches, available in limited engraved series, is offered alongside an exclusive edition of 30 pieces presented in a precious box. Each of them beats to the rhythm of the 430 MC mechanical movement with manual winding.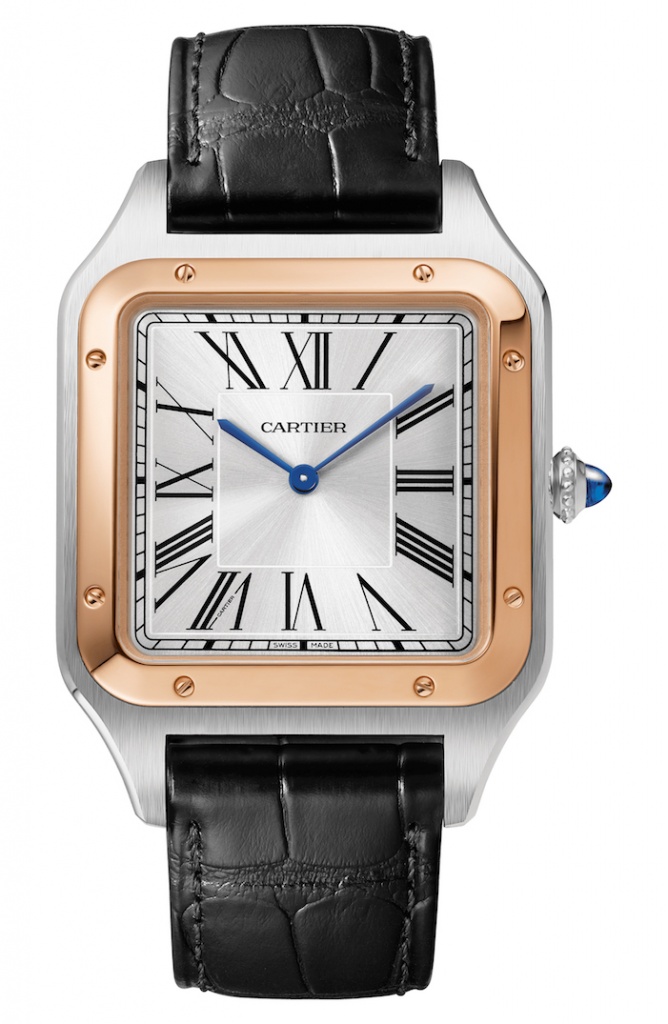 THE SANTOS-DUMONT XL WATCH 
The Santos-Dumont XL watch reveals a completely reworked design and proportions. Its history, the purity of its lines and the beauty of its mechanical movement with manual winding make it a watch for connoisseurs. 
XL transformation of a timeless watch 
With a contoured case, taut lines and unadorned elegance, the iconic design of the Santos-Dumont watch is enhanced in an extra-large size. In contrast to previous models, this one comes with a change of scale.
On the wrist the dial is wide, generous and taut – retaining a true focus on style and essential elements. The finesse of the case and the level of sophistication remain the same – from the sword- shaped hands to the beaded winding crown, from the sunray satin-finished dial to the case back engraved with the initials S=D, the signature of Alberto Santos-Dumont. 
The 430 MC calibre: the choice of connoisseurs 
In a play of tension between function and form, inside and out, Cartier watchmakers chose the 430 MC mechanical movement with manual winding, appreciated for its finesse and the nobility of the gesture it requires.