You probably all know by now, if you have been following me on Social Media that I have embarked on a new challenge and "hobby" since May 2019: Ultra Marathon running.
I know usually people decide to take on running step by step and go for half marathons then marathons and maybe maybe an ultra; I usually do things the other way around.. crazy huh!!! well you either aim for the toughest races in the world or just don't do it. My aim from the start was the Marathons Des Sables 2020.
This is where my journey started and from there I built a plan to get there including participating in several ultra races building up to 250km.
26 September 2019 was the date I took on the most challenging race of my life in all its aspects: The Half Marathons Des Sables Fuerteventura – 120KM in 4 days with a day break. Just to keep things in perspective; I was training with Marcus and the inner fight team since may, with a long break in august that brought my confidence down tremendously because of my irregular training patterns for over a month away from home.
Anyways back to HMDS final preparations as they were quiet exciting and stressful; imagine this – I am back in Dubai just 20 days before the biggest race of my "athletic life" and here I am with no backpack , no idea what food to take, what clothes to wear and how am I surviving 4 days in the desert on my own – totally self sufficient.
On top of that, all the necessary material and food to survive such ultra races are not readily available in Dubai and need to bought online and shipped home on time before the race for testing – another level of stress!!!
I was able to get my official backpack and my food 5 days before traveling to Spain which left me with only one practice day with my backpack on. I filled it up to 5kg and I decided to run in Al Qudra to get a feel of how it would be when I m running HMDS. Frankly, I was OK with the backpack , but I chose some favorable conditions in the training terrain which I ll pay for later in the race…(more later).
The flight from Barcelona to Fuerteventura was a very interesting one – almost 80% of the people on the plane were participants wearing already their races backpacks – all yellow and black ,almost everyone had the official WAA race kit which started to stress me out – they all looked well prepared, confident  and ready. As if they have all been there before – my eyes were rolling left, right looking at every single detail on each backpack and trying to compare them with mine – the more I looked the more I felt I don't have the right equipment with me and I am going to fail.
They were all in groups of 2 to 5 at least , chatting , excited, hyper… and here I am , totally by myself checking whether I have forgotten something at home that would make or break that race.
The checking In at the Playitas hotel was the first official interaction I had with the race organizers and also the reality check that this is really happening in less than 24hours. I submitted my medical certificate, checked my equipment checklist with the team and received my first 2L water bottles that will last me until the first check point the next day.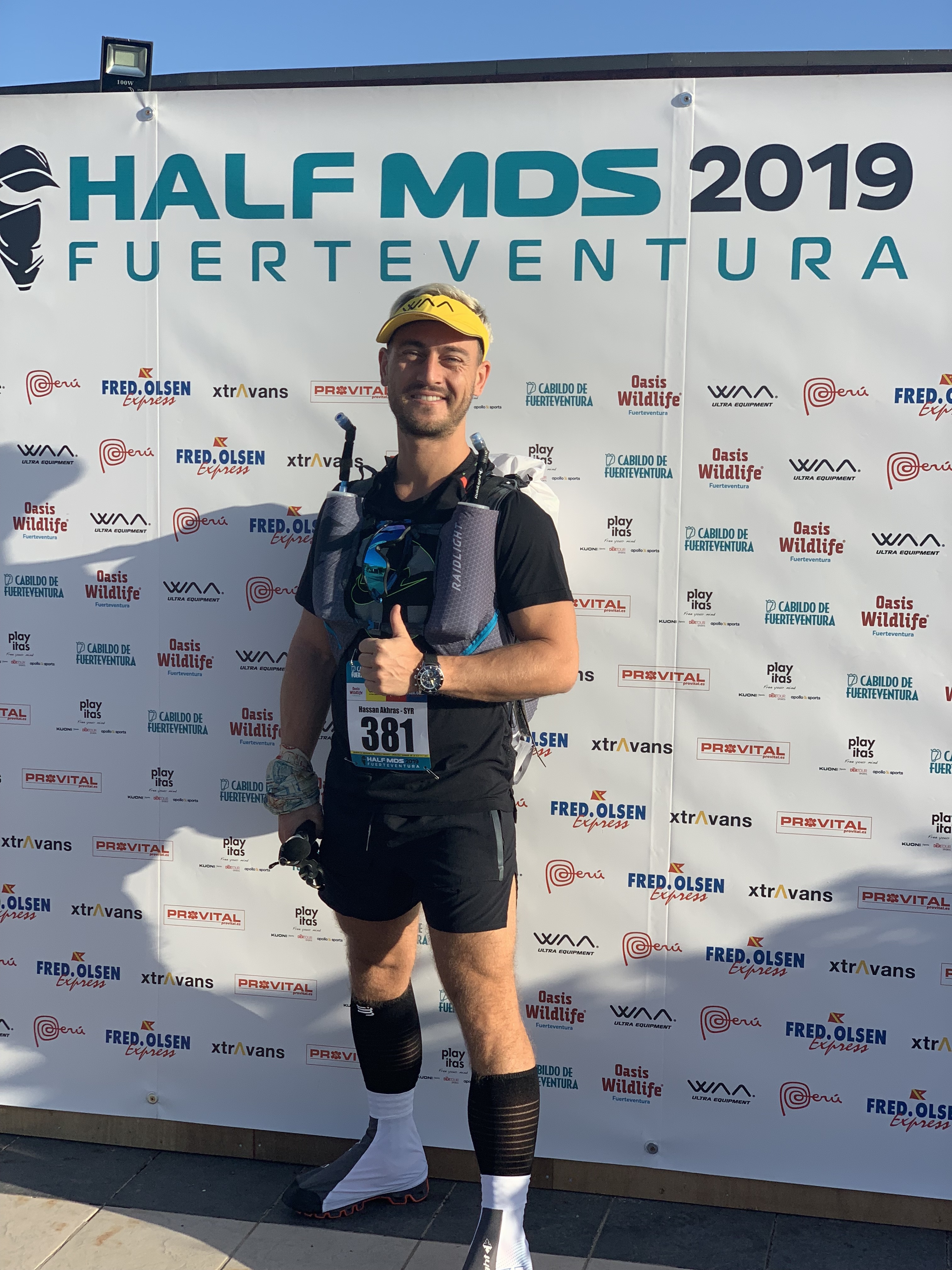 Day 1 starting time was quiet late frankly; the official race started at 12:00 after a long breakfast , a longer drive to the starting line and then a walk down to the official start. Mid day. temperature as high as 24 degrees – which is not an issue for me – this is winter in Dubai 🙂 ..but for many it seemed an agony coming from all around Europe and America.
Our first day was a 30.4KM run up the mountains first and then down to the beach where we had to cross a long 10km path on the smooth sand until we reached the next mountain climb to finish our last 10km on mixed terrain of sand and grovel.
Remember I told you before I ll pay the price for taking it easy on my training with my backpack – well that's exactly what happened to me on the beach run – I couldn't make a proper step for the entire 10kms stretch – I had to walk it all!!! Nightmare!! I felt that I am not moving at all .. I can usually do a 10k in less than an hour and it took me around 2 to finish that strip.
My only concern during the entire time was not to be last – I kept looking behind me to see if there was a  good bunch behind and luckily there was. But I kept being surpassed by the same people over and over again – its like I take a few steps ahead of them , then slow down, they take over .. then they slow down .. so on and so forth … definitely not your top 3 runners tale here 🙂 more like survival mode until the first finish line.
Remember how Marcus described "the rookie runners" with the fallen sleeping bags dangling from the backpack and swinging from one side to the other – well that was me again between two CPs.. for some reason my mattress was not hooked properly and kept swinging on my back from one side to the other irritating me and distracting my run until I reached the next Check Point (CP) and discovered the power of my backpack.. it actually has so many useful laces that could hold my mattress firm enough closer to my neck without annoying me … hoorahhh!! I made a breakthrough this day!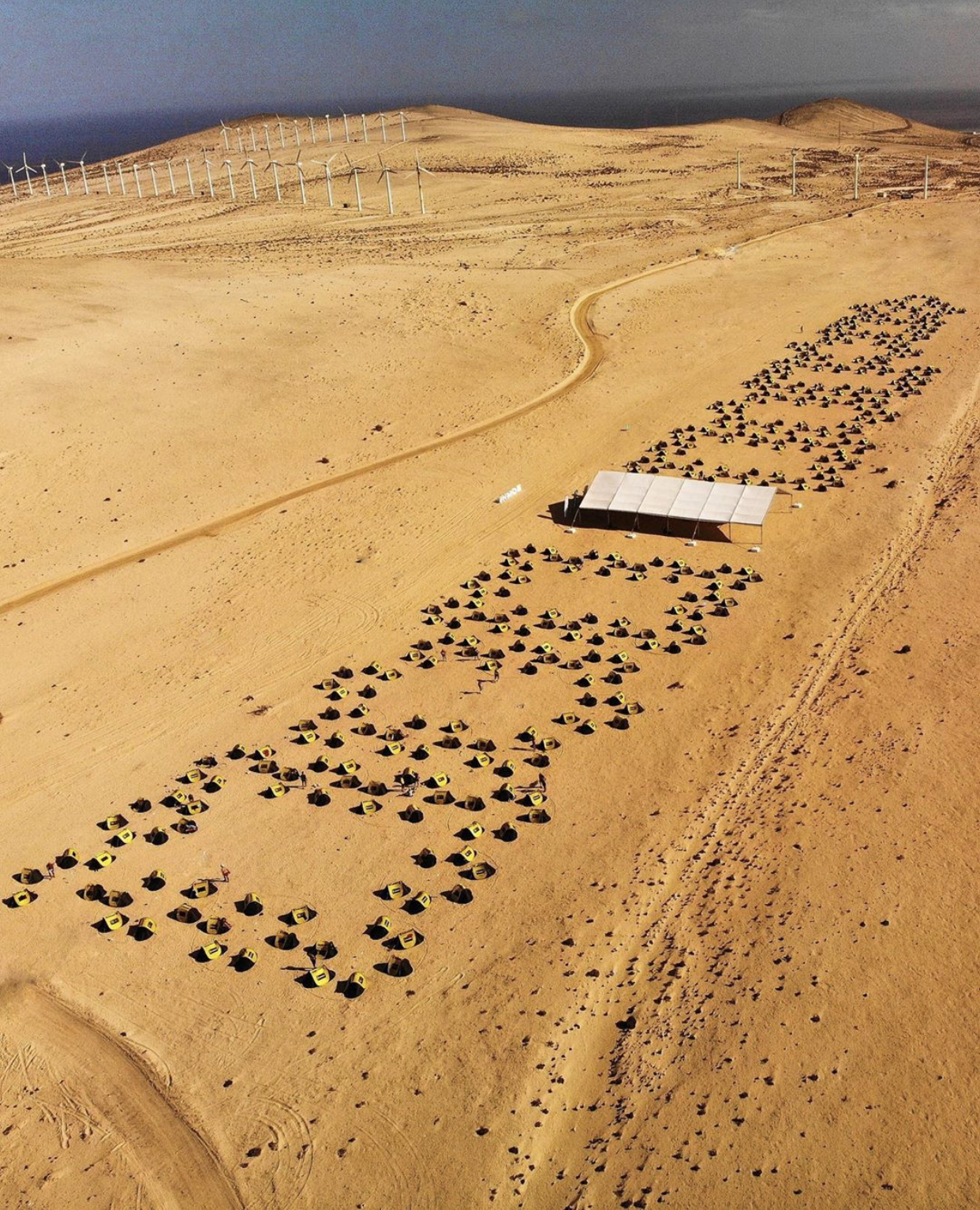 Reaching the Bivouac for the first time was the happiest I felt for days!!! they gave me my tent number and a 5L water bottle that need to last me until the next day's CP..This was for cooking tonight, drinking , and filling up for the next day's first 10km.
Now guess what!!! I don't know how to cook,  not even how to make a fire – yes back to basics here. My tent mates were not here yet and as we were grouped in 5, I was the first to arrive and very hungry.  It was very windy and I kept looking at the other runners struggling to make fire for their own cooking, so I made the decision to use my water as is ( fair temperature) and just poor it on top of my dry food in my stove and eat it as is. Disgusting!!!! My food was crunchy, cold and tasteless.. but whatever, I wanted to have my dinner asap and just get on with it – for the people who know me very well – Yes I know you are wondering : who is this ? is that Hassan? the guy who eats at Zuma and La Petite Maison!! is that for real?… well guys when survival mode is calling you, you drop your standards to zero and start from there!
My tent mates arrived and one of them; Polish, was our savior; he had a magic torch and was able in few seconds to light up the fire and start cooking . At that moment,  I had already a bit of rest and my feet were OK so i decided to indulge in the luxury of having a cup of coffee.  It was probably the most appreciated coffee I have had in ages. Made my day!!!!
Usually in those types of ultra marathons , you always have a "Long day" that everyone fears. This was the next morning for us.. 54.5Km on all kinds of terrains and elevations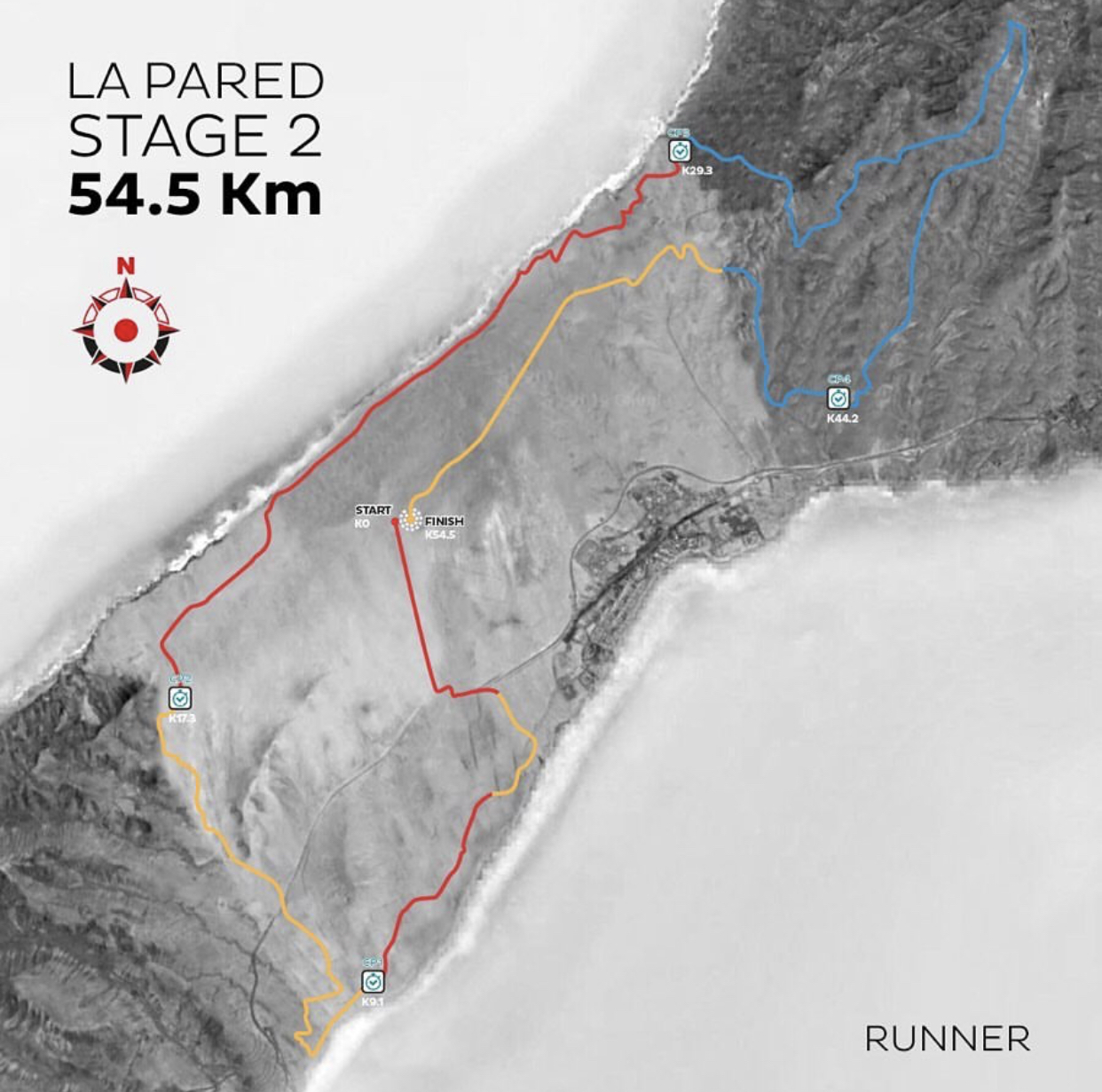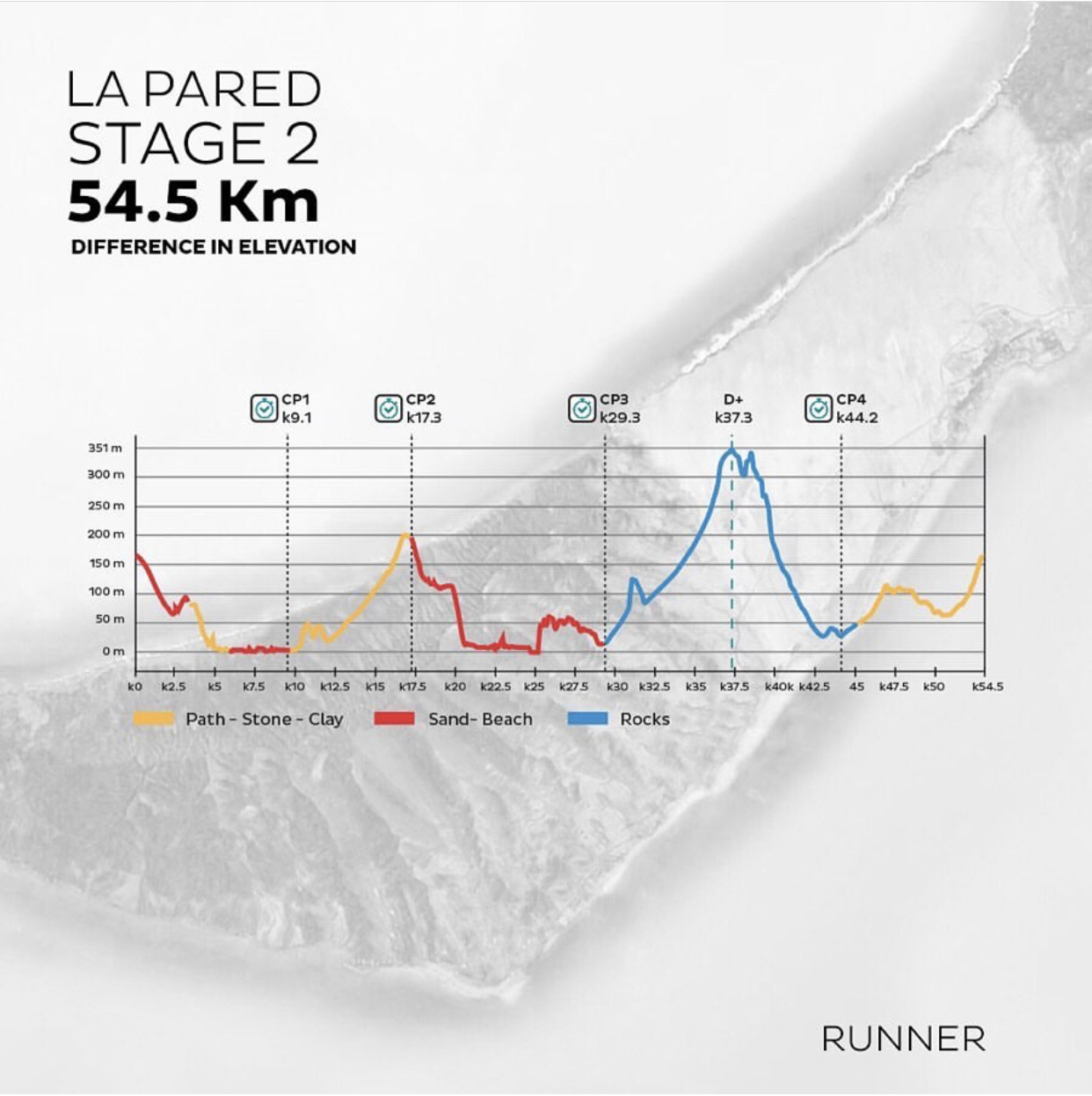 Our start was planned at 6am sharp – nothing should be left in the tent -all packed and in our backpacks; otherwise we get penalized. My watch sleep reading was 4h30 only!!
This was the big day for me – if I can make it through , I own this race – I just needed to survive the pain and keep going no matter what. Luckily the start was on a downhill – this is great for me as I crush it usually when running down, I capitalize the most to gain speed and finish off as much terrain as I can without much effort.
1,2..4… this was  my count while running down the hill reaching the beach side.. I was hyped, finishing off almost 5km in no time and passing by so many runners – frankly, it was a great start and gave me the right moral push I needed for the day – the scenery we had up until 30Km was mesmerizing , I even slowed down just because I wanted to enjoy the beach scenery with the rocky terrain we were running on.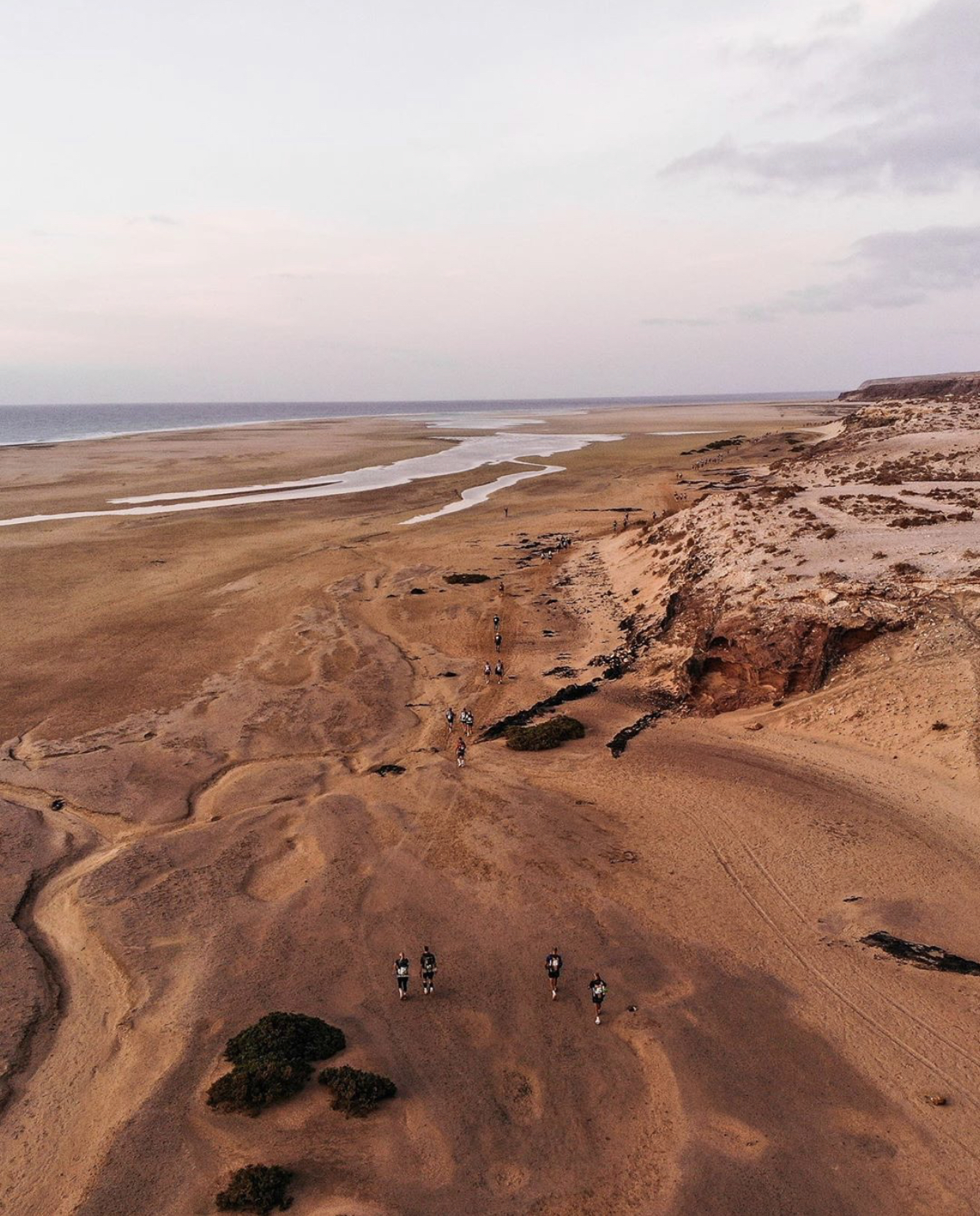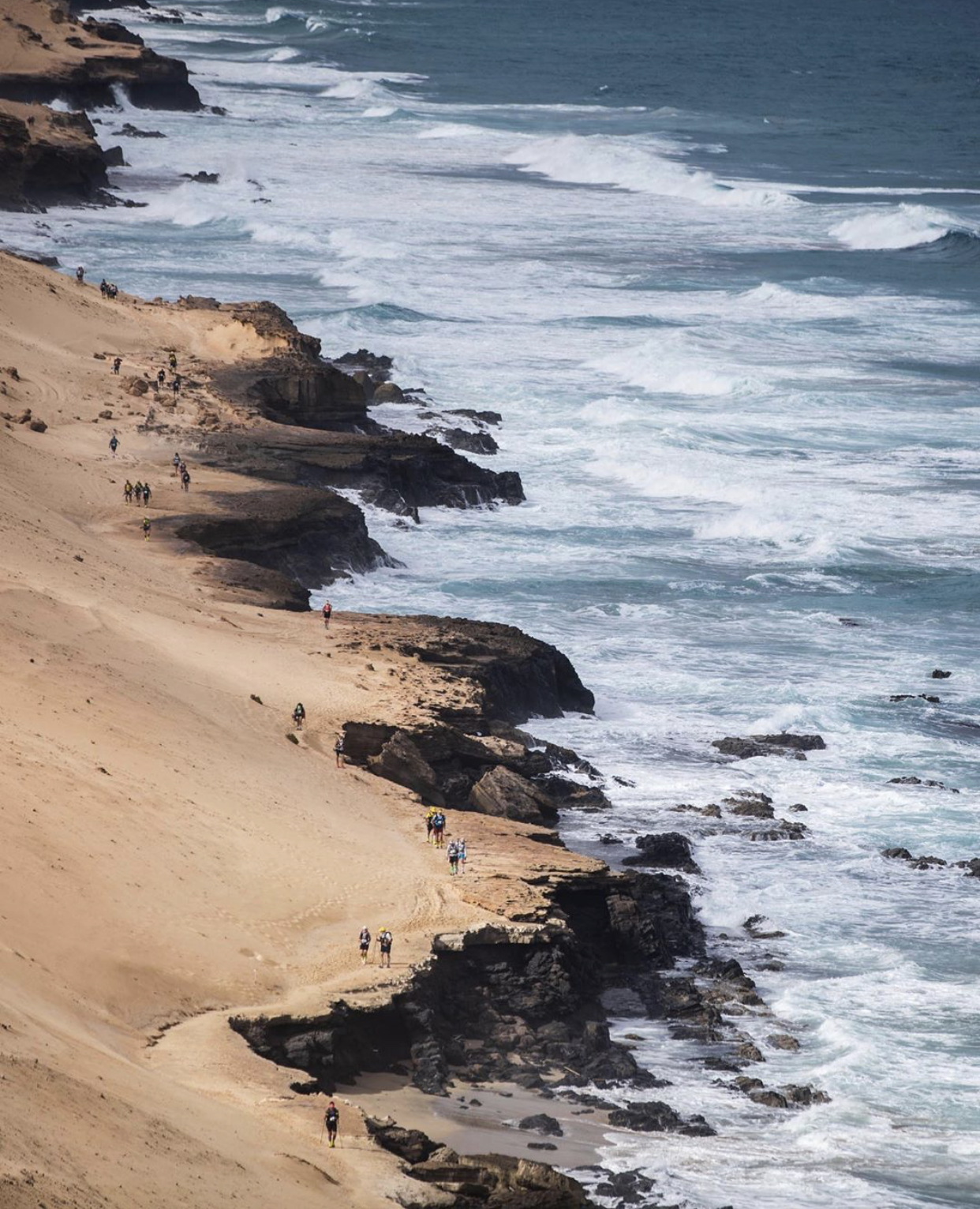 The pain started once we reached the very long path, very dry and endless – it was in between two large hills, similar to a valley with loads of rocks and stones.. I was looking around me and there were less runners around – I started thinking was I too fast or too slow ? where is everyone? I saw a few runners next to me mostly walking at that point; so was I .. the pain was getting stronger and stronger and the temperature kept rising , it was mid day , very hot, and I almost drank all my water.
Here is where my mental game kicked in; I m only half way from the finish line, I don't have enough water to suffice me until my next check point which was still 8km away and my feet are killing me… what do I do now? I looked around me and I saw an older runner, probably in his sixties, running a bit , walking a bit and leaning to a tree every now and then to catch his breadth… but the look and determination in his eyes were just inspirational… you could tell, he is not going to stop and he will keep going until he reaches the end even if this kept going on for another 10 hours.
Bare in mind , I have never ran beyond the 35KM that I have reached at that time and I am navigating in a whole new space now … Everything I do from this point onward is totally new for me and what was more challenging was the fact that the big uphill ascend was just a few kilometers away closer to the 42km mark.  I stopped running, the closest nutrition I had up the grab was a GU candy and I had only 600ml of water left.
Well the first thing that actually got me going was guilt and the fact that many contestants that were still running are actually older than me and I always felt that my body was fit enough to endure such sufferance. All that pain was just an illusion in my mind  – the only way to get ride of it is actually to embrace it, accept it and make it my own – can't let a few blisters and foot pain control my faith and the competition – I came for one purpose and one Only – I want that finishers medal 🙂 .. and I am not going home without it.
10 hours down the road, I found myself walking with 2 Belgians , chit chatting about our lives and looking at the flags around the entrance of our Bivouac… it was there , our salvation, the end of the toughest day in the race!! What a joy to reach the tent during day light and among the first 150 contestants.
We had a full day to rest and I definitely needed it – the main reason was , after that 54KM run, I have developed a huge blister at the bottom of my left feet and needed to get it taken care of by the Meds. I tried to handle it myself in my tent at first but I believe i made it worse as I cut it too fast instead of letting the wound be cleaned up and disinfected first.
The Medical staff proposed to teach us how to use the syringe and inject ourselves – frankly couldn't even look at the tip of the syringe to attempt to stick it in my own foot!!!! Too many things to handle while exhausted from the run… some pampering from the nurses was not too much to ask I guess 🙂
Oh I forgot to mention the flirting I had from the wonderful ladies at the check points everytime they used to fill my water bottles. Basically , i used to remove my sunglasses and cap to poor some water on my head and cool myself and I used to get beautiful smiles and some Spanish flirtiness about my eyes " ojos guapo.." silly huh!!!! well it kept me going and lifted my moral everytime …don't judge!!! you will see when your turn comes how these small gestures help a lot!!
The off day was quiet chill: Yoga, a good sleep, chatting and taking some photos around and an early night sleep in preparation for the final day.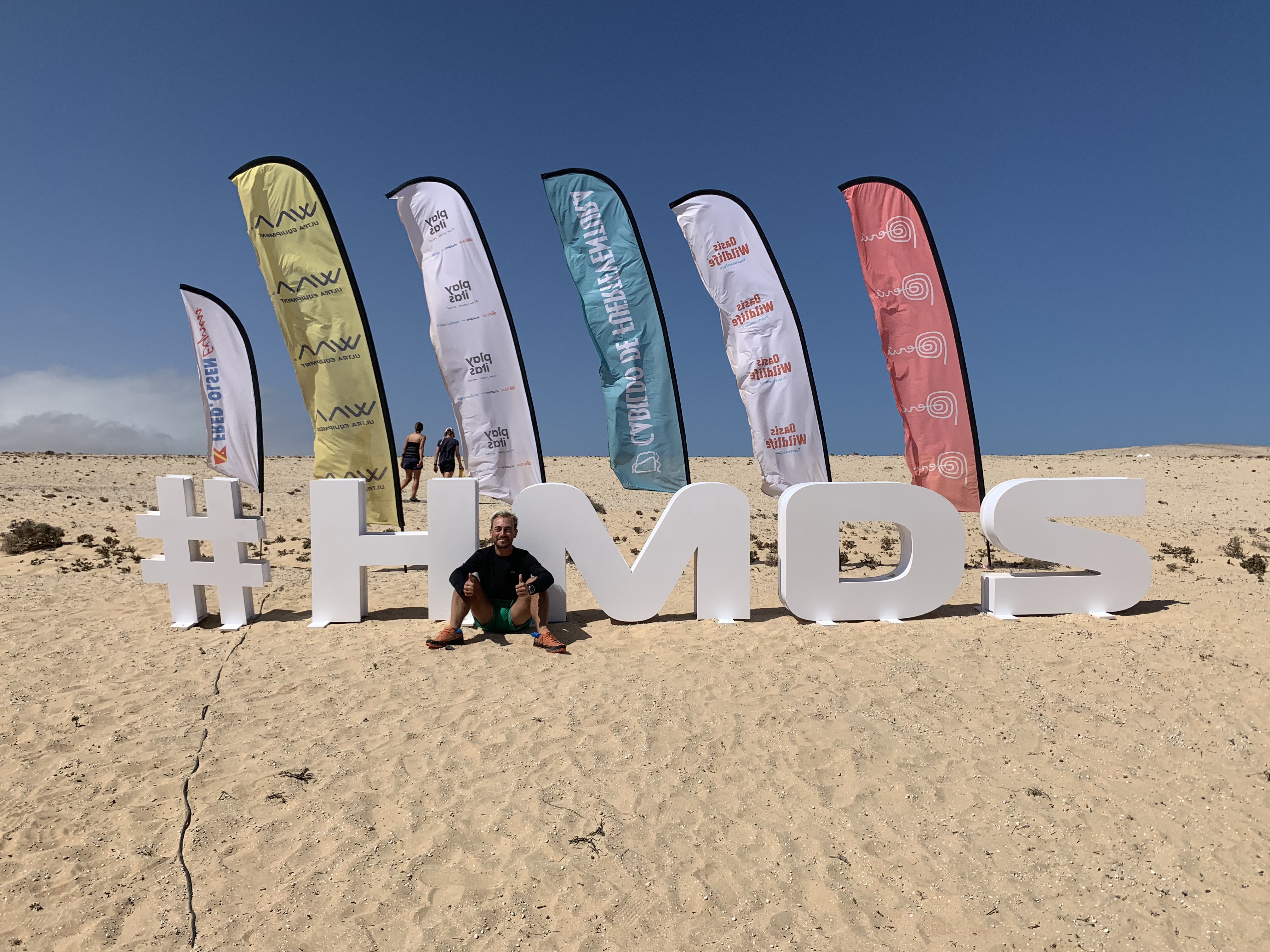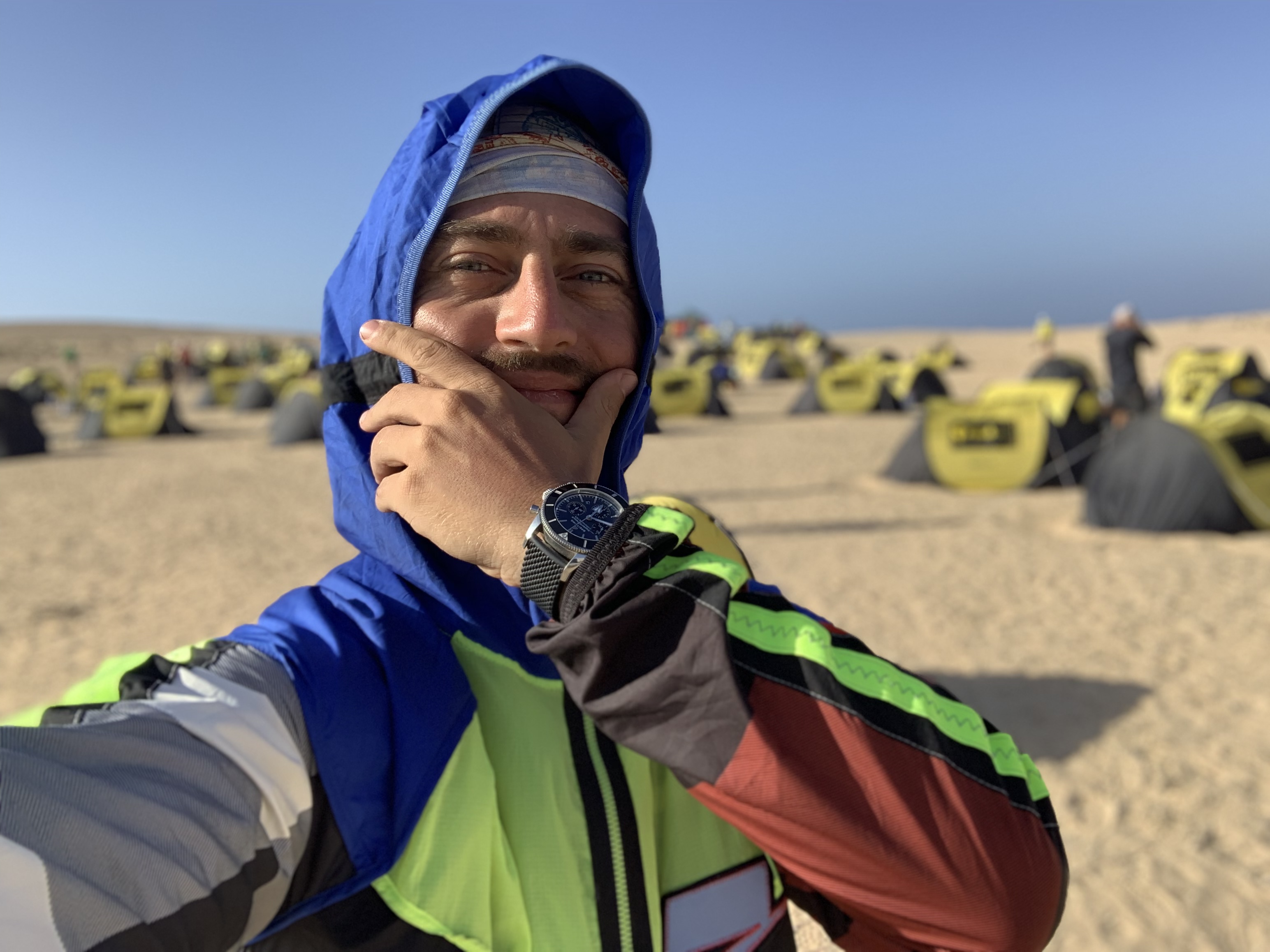 Day 4 and last – energy levels were very high; a lot of excitement and also restlessness to reach the finish line and complete this wonderful HMDS. The first 15Km of the path were fairly easy and mostly downhill or flat until we reached the 2  mountains that separate us from the finish line on the Playitas beach.
The first ascent was brutal and extremely long, it just felt like it will never end and also it was a kind of a ridge on the top which made the descend towards the second hill quiet technical specially that many of us were running behind each other and some more excited and pushy than others.
I Had to give way several times to runners behind me just because I didn't want to break a leg sliding on those rocks in a tiny path going downhill. I wanted to make it in one piece back at the hotel with zero injuries.
The only thing that broke my moral was the fact that once we went down from the first peak, the second one was not as small as they told us and it actually took the same amount of effort to climb it up before seeing the final flags of the finish line – I admit at that point, I was so pissed and swearing all the way up as I felt betrayed and misinformed.
But as always, i sucked it up and kept going – it was only 2km away from the end and nothing would stop me now from this finish line. That last descent was just amazing; downhill, people cheering up and all I was thinking of was a good shower, a burger and a cold coke ( which on normal days, I would never drink). There is something about craving a Coca Cola after every race – I never understood it, as I never drink coke in any normal day.
Now unfortunately, I didn't have anyone waiting for me at the finish line to take a picture while I crossed it ,so I need to wait until the official pictures are released and pray that the organizers have not forgotten me :)… but as you can see I am always prepared with my Breitling SuperOcean on my wrist to take my favourite wrist shots.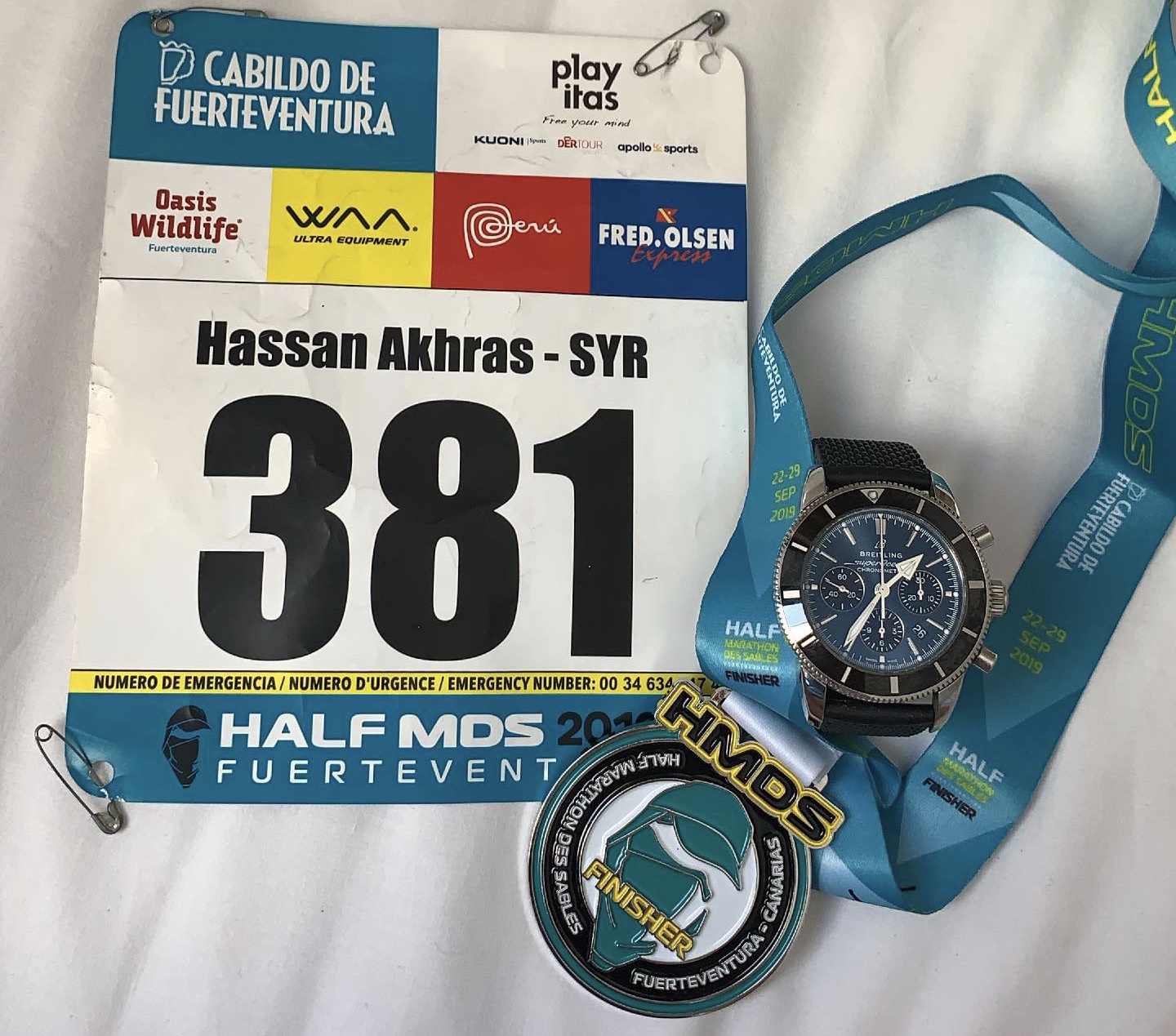 Overall, this experience opened my eyes on some many dimensions and made me think about life goals and priorities but also how strong and supportive human interaction and bonding is in such tough conditions. Human beings living a simple and a quiet basic life are much closer to each other and more supportive to their peers compared to our current daily sophisticated lives.
That's all for now until my next Ultra experience !!!