In November 2019, while flipping on my Instagram feed, I noticed an ad from a brand called Hoffman.
At first, I didn't recognise the name but got caught by the vintage racing look of the chronograph watch – at that time the watch had a yellow dial with black sub-dials – the watch name was Octane racing. I immediately ordered the watch to check the quality and the seriousness of the brand.
It was the first time I ever purchase through an Instagram ad, but it look very professional and well executed which reassured me.
A few days later, I received the watch and it looked great!!! I took some shots and posted them on my Instagram page and the response was unbelievably positive and raised a lot of interest around the brand and the watch that many started ordering it.
At this stage, I decided to get in touch with the founder Will and discuss with him a potential collaboration for the Middle East exclusively sold on my Shop.
The idea i had in mind was to combine a light blue dial with a more daring burgundy sub-dials and to transform the bezel tachymeter to all "Indian numerals" as a first attempt in the industry as such.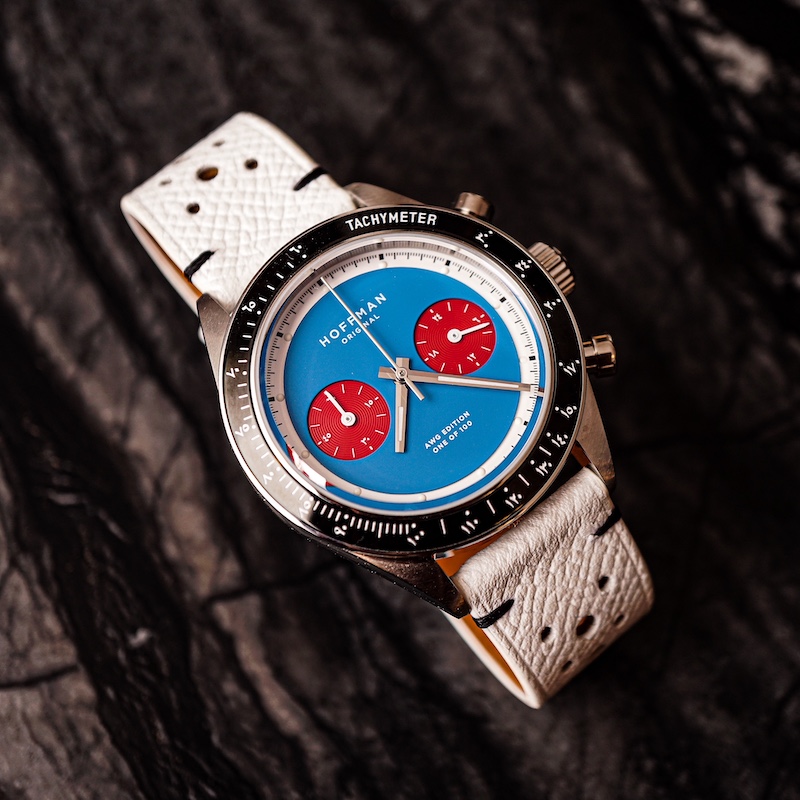 Few weeks later we got the first renderings and the project was ON !!! I was thrilled to see my vision come true in such a quick time period. I suggested to Will to build the first prototype to be able to share it with the audience and get their first reactions and interest in such an edition.
Little did I know that the entire 100 watches will actually be sold out in less than 24h since I shared the rendering pictures on my Instagram Story!!
The AWG Hoffman Racing Edition
The AWG RACING Edition  has a polished and brushed steel case with a black bezel with Indian numerals engraved markings. The dial is dual-layered with a specially designed light blue upper dial, and a burgundy lower dial. The sub-dials, accentuated by a circular pattern, show chronograph minutes and 24-hour time in Indian numerals (for when traveling).
The materials used to create this watch are simple: stainless steel, scratch-proof sapphire crystal with anti-reflective coating, and polished leather strap – all carefully selected for longevity and style.
Some of the specifications of the watch:
Width 40mm x length 48mm x thickness 12mm
Seiko VK64 mechanical quartz movement
5 ATM / 50 meters water resistance
The materials:
316 stainless steel
Sapphire crystal with anti-reflective coating
Leather
As Will Hoffman puts it ""Our RACING 40 is inspired by vintage racing chronographs, we have deconstructed the design to create a reimagined modern version with a strong visual identity. The RACING 40 features characteristics that we have made ours; matte and textured dials, sophisticated colors, and minimalist aesthetics ."