Today marks another milestone for the AWGshop as we proudly introduce our second edition for our online shop specifically designed with the spirit of the Middle East and keeping our authenticity of the shop theme intact.
The Lundis Bleus 1100-LE AWG Green Aventurine is a very special piece that is the fruit of several elements brought together to create an Hommage to time and to our region.
About Lundis Bleus
Lundis Bleus is a brand in 2015 founded by two swiss watchmakers from Valle de Joux:
Johan worked for renowned houses such as Renaud & Papi (Audemars Piguet) and La Joux-Perret, and since 2008 has been working for Richard Mille in the development of watch movements and mechanisms.
Bastien started his professional life by working in the design studio Etude de Style in Neuchâtel, and he stayed there from 2004 to 2007. He later went on to working as a watch designer and product design manager for Corum Watches for 6 years, and as of 2014 he became a product manager for the private-label company Roventa-Henex where he is in charge of managing watchmaking development projects for many confidential clients
The Blue Mondays  "Lundis-Bleus"
Until the end of the 19th century, many workers in the watch industry took part of what was known as "Blue Mondays" (Lundis Bleus in French), a self-granted form of freedom where the most skilled and well-paid workers would not go to work on Mondays, sometimes Tuesdays as well, and in some cases pushing all the way to Wednesdays. Historical traces prove the tradition's existence as early as the 16th century in Switzerland.
Looking for rest and entertainment to compensate their efforts in 15 to 16 hour-long workdays, Sundays excluded, the workers found themselves choosing to have the alcohol flowing in their local pub rather than being in their workshops. They would organize their work as freelance professionals do today, working whenever they wanted and following their own set of rules. With the arrival of industrialisation and the reduction of working hours in the early 20th century, the workers gradually lost their independence and freedom, becoming employees with shorter, rationalised and structured workdays – the end of Blue Mondays had arrived
The Calligraphy
Starting with the central part of the dial; the central medallion is made of brass, with arabic calligraphy by acid etching, snail finish and rhodium plating –  nothing printed. But what does it say?  "هذا الوقت سيمضي"
A long long time ago, a King called on his advisor asking him to create a ring for him with a special engraving that will make him Happy whenever he is feeling down and will making him sad whenever he is happy… The sentence was " This Time shall pass"
We got our inspiration about the power and essence of time from this story and we wanted to keep it visible to the eye of the wearer at all times. It's always important to know the value of  moments in life and to cherish both the good and bad as they all are an integral part of our existence.
We commissioned a young calligrapher in Saudi to come up with a unique writing of the sentence that would fit a medallion and stay visible and readable as well. Ther result is as shown on the central piece of our dials.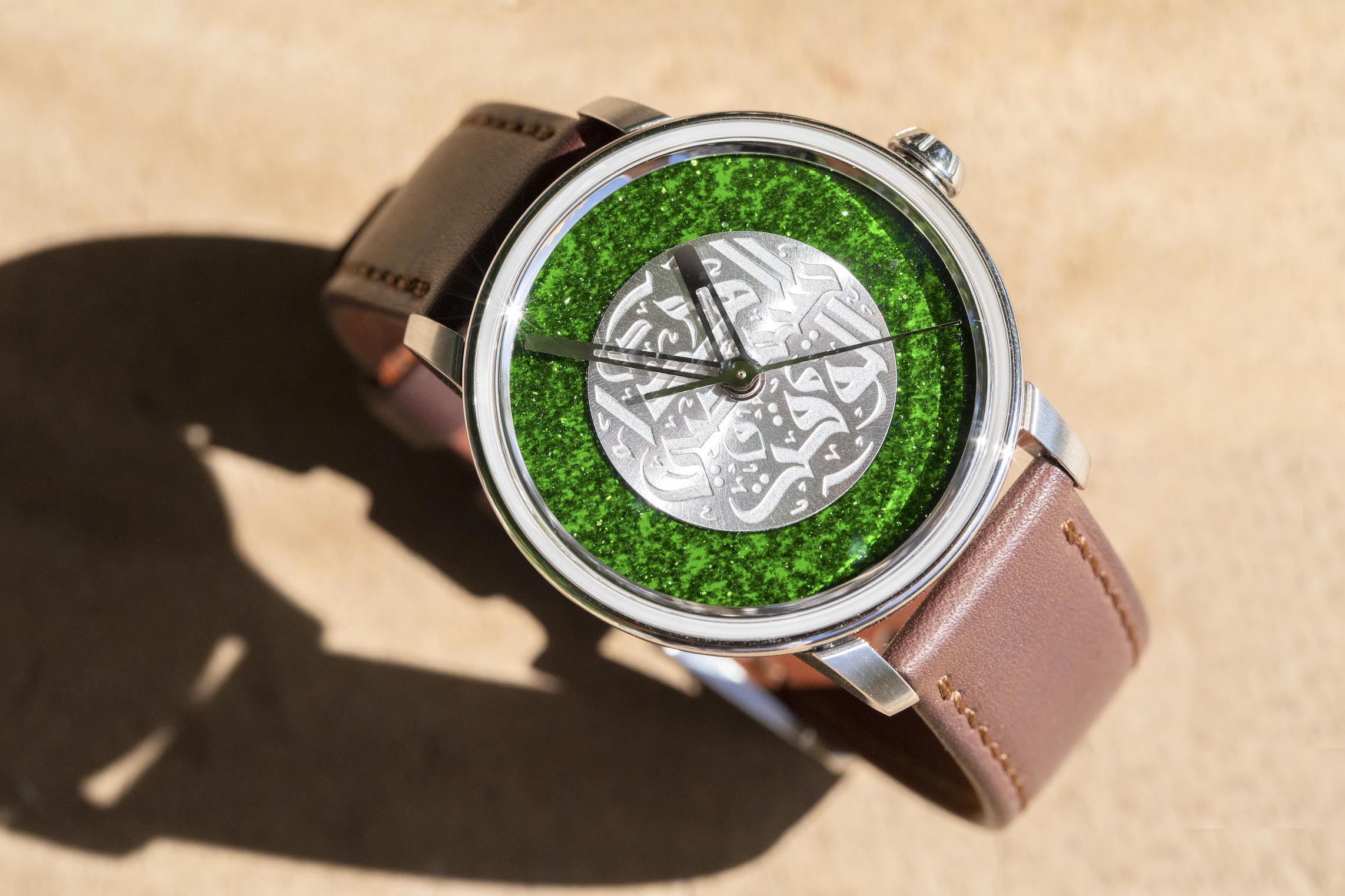 Green Aventurine
The second element of our dial is the outer green aventurine glass. Green is a very respected and loved color in our region – it is visible in most of our flags and is associated with Paradise in Islam.
The Green aventurine is rarely used in watches compared to its blue counterpart and for that we decided it is the perfect fit for our special edition.
The glow that green aventurine produces is very unique because of its composition of chronium salts, crystallised inside green glass.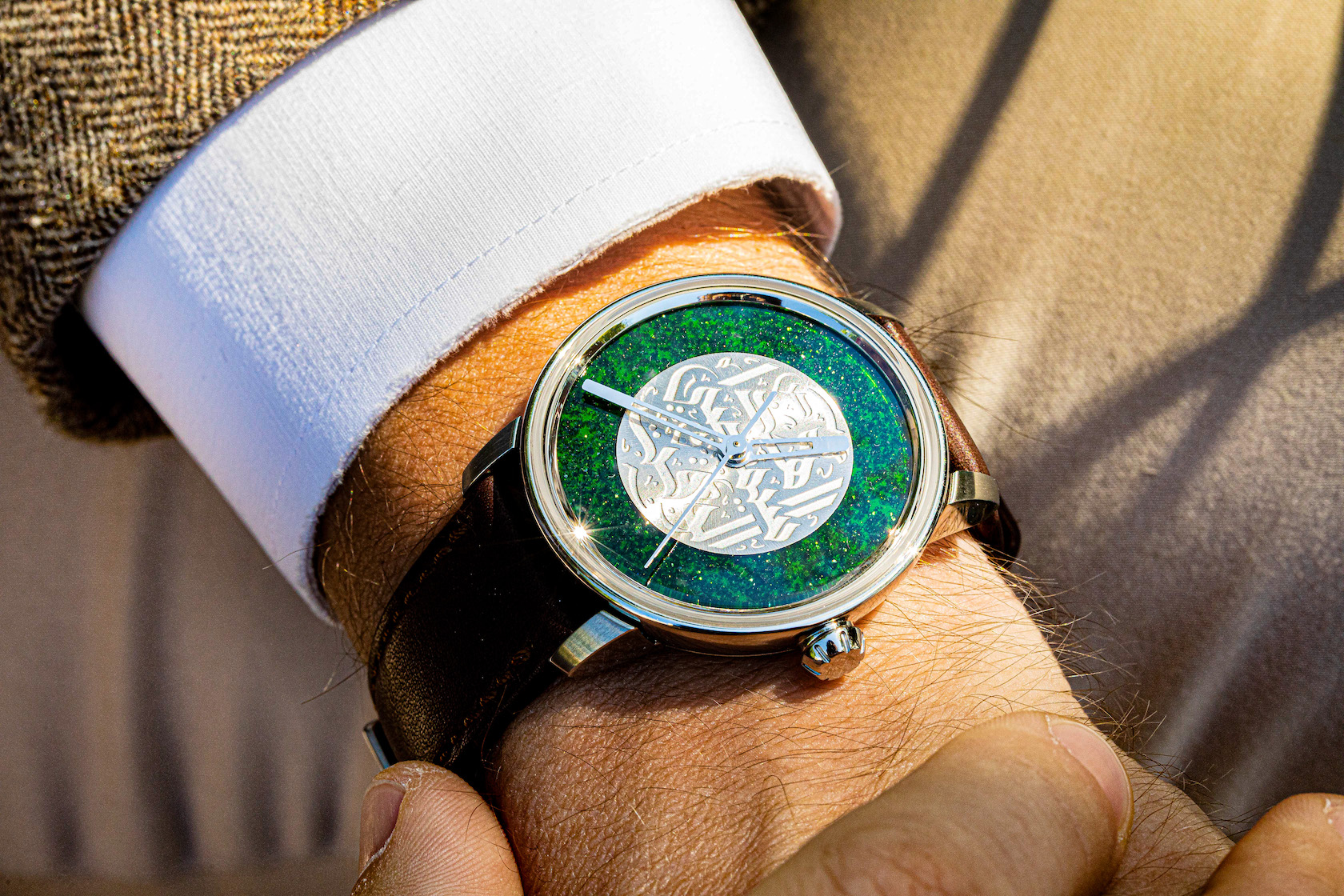 Watch Description
Our watches comes in stainless ateel 316L, 40mm case with basin shaped profile. Water resistant to 3 bar with a thickness of 11mm, crystal included.
Box type sapphire crystal with double sided anti-reflective coating. Case back in stainless steel with lugs, stamped logo and sapphire crystal.
For the movement, as with most of Lundis Bleus watches, we used the Japanese automatic movement Miyota 9015 know for its reliability and precision with hours, minutes and central seconds function.
Finally our rotor has a special mention " 1 out of 15″ by pad printing.
There are only 15 watches made from this model to be offered worldwide on our website with a retail value of AED 12,000.