By now, I am assuming most of you have heard of Furlan Marri, whether you have seen their page on Instagram , the many posts influencers and watch journalists have been sharing on Social Media or even attended their latest Club House talk a few days ago!
I have had the chance to receive one of the first prototypes of the brand last week and have been wearing it daily since. I think it's about time for me to share with you some of my key takeaways.
But first, let's rewind a little bit to the infamous 2020 year ! when I received a call from Hamad from KSA telling me he has something very cool and secretive he wanted to share with me and hear my thoughts.
I didn't really know what to expect as we were speaking first on Instagram and then picked the phone up to hear the excitement in his voice explaining to me his new venture with a young watchmaker called Andrea. Now, the devious, curious man I am , I kept asking him to show me at least one picture of this watch he is so fond of…. it took him few days to accept to share with me a "disappearing" picture of the watch – meaning I get a sneak peak and it disappears.
Few months down the road , I started seeing the real pictures of the prototypes with diverse dials, silver, black, grey and of course my favourite Havana salmon. The idea was shaping up pretty well and what stroke me the most was the anticipated price point – I couldn't believe that watch is going to be on Kickstarter for USD 330 for early birds. I thought to myself maybe they will cut corners or reduce quality to meet that price point.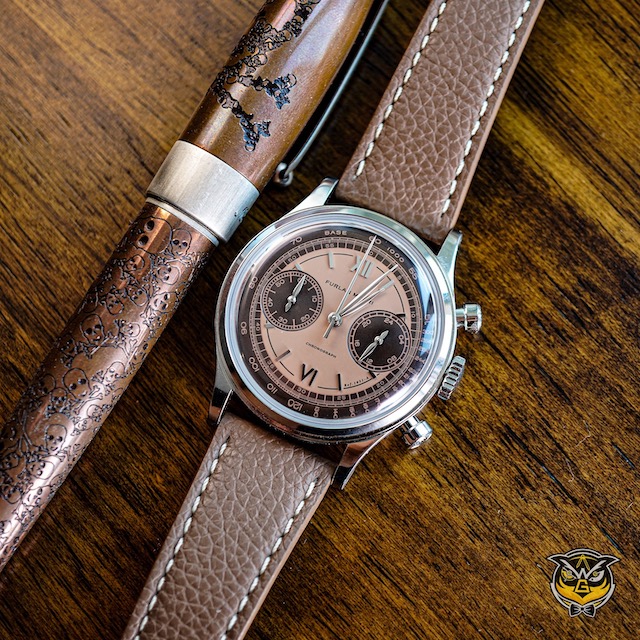 So Hamad sent me the Havana edition to see it up close and enjoy it on my wrist –  I must say: Wooww!! Let me tell you why.
For a watch at this price point, the designers have really put a lot of attention to details – whether it was the curved, domed hands in tempered blued steel with a beautiful polish or the engraved ends pushers with a sun pattern or « Tasti Tondi » as they might be called, or even the delicately well curved lugs on that thin case.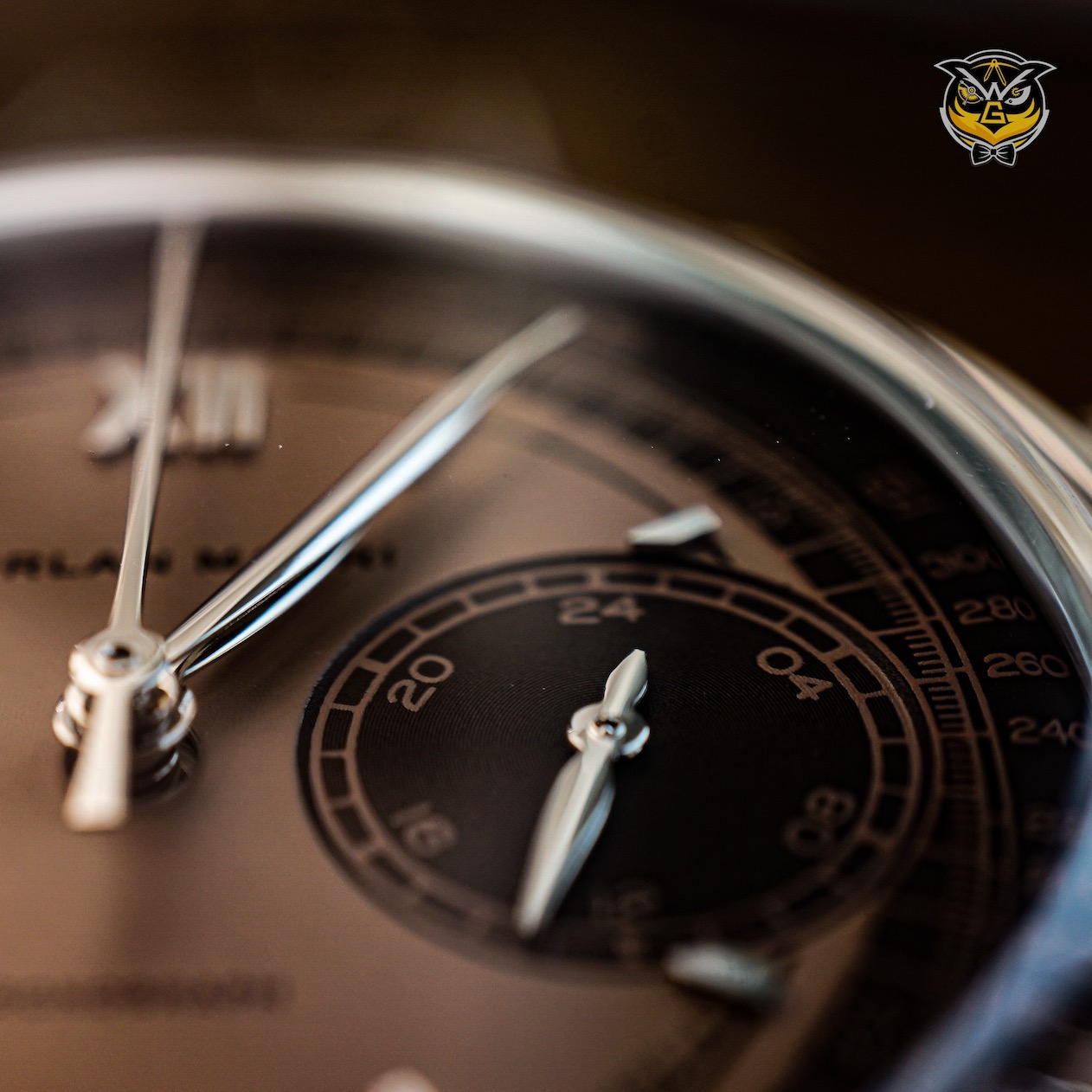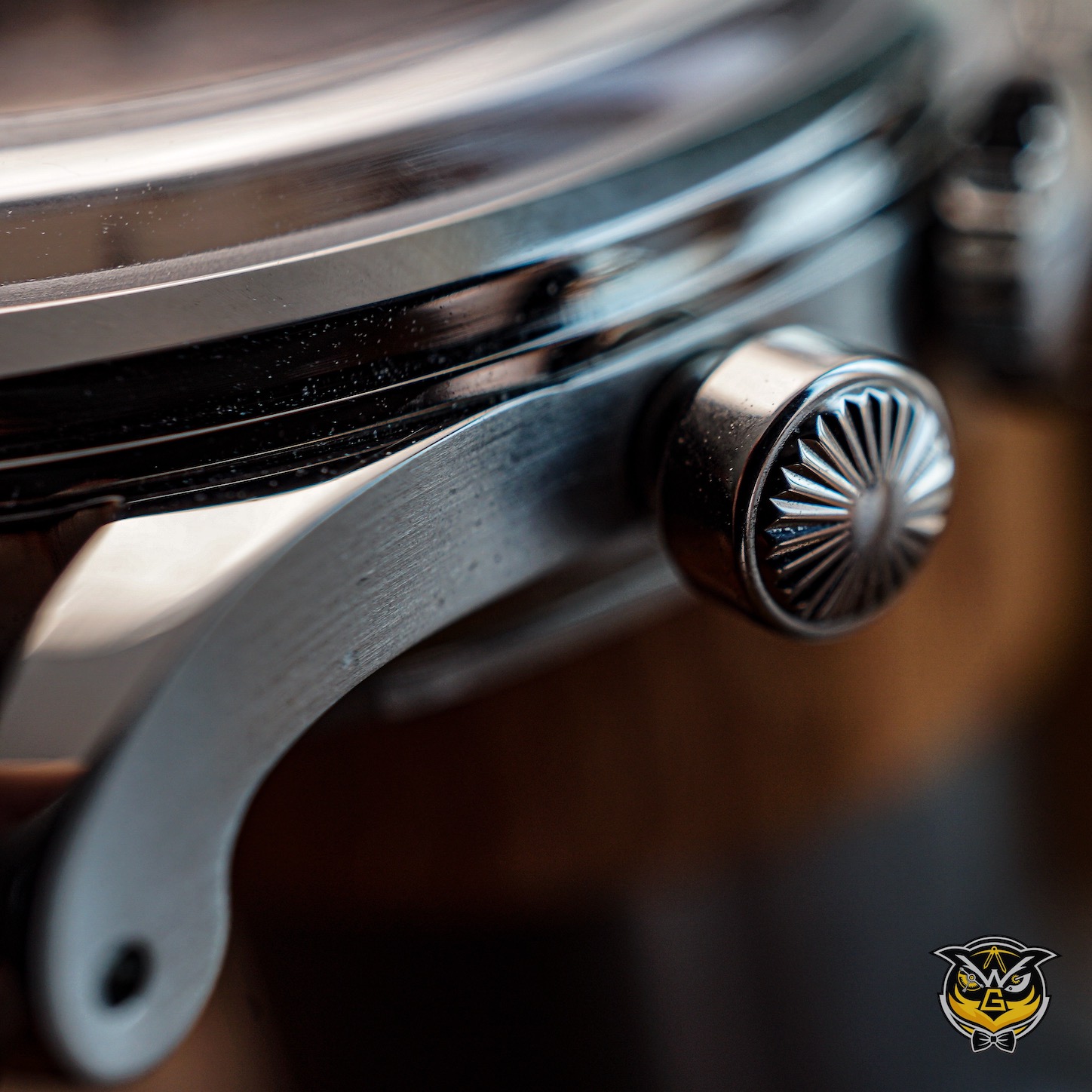 More than that, the pusher's pattern has a small step to better control the polishing of the element. This step is also found on the decagonal screwed caseback, again to better control the finish between circular brush and polish finish.
Now let's look at the dial; look closely and you realize the various type of finishing from the fine microblasting to lacquer. One comment I had on the inner "salmon" dial color, I would have liked to see it lighter and more salmoni than brownish.
The indexes are a mix of Roman numerals 12 and 6, and the batton indexes all finished by a CNC process for a better polishing finishing.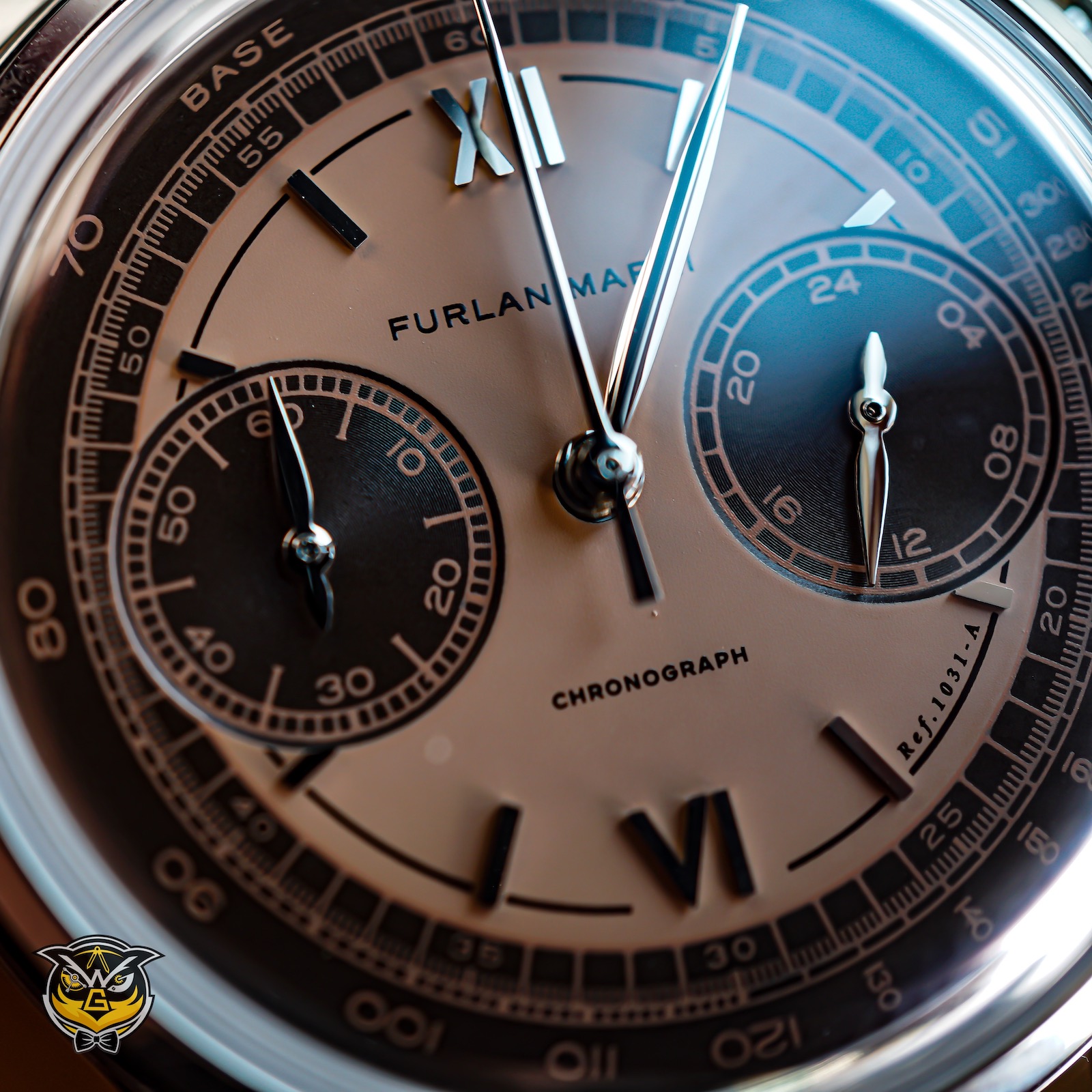 Inside, the case back has a « perlage » finish and is engraved with the seal of the brand and the case manufacturer. Each main element has its own reference number: the dials, the bracelet buckles, the main case or the case back.
Even the strap choice was made with care – the light havana greyish leather strap is very soft and light to wear – also it fits perfectly the color of the dial and the full look of the watch – I am really glad they didn't take the simple , easy way with just another black calf skin strap.
For some, my next piece of information might come as a disappointment , but let's bare in mind : Rome was not build in One day!!! so  the first collections will all be limited edition meca-quartz chronographs (two of the references will no longer be reproduced after the campaign).
I know we all are eager to have that manual winding vintage chronograph feel that would have complemented this watch to reach Horo-perfection; but then again at USD330, you can't expect to have the world!! but don't worry because their second edition is going to be mechanical.
The watches are going to be sold on kickstarter on March 10th and I believe from my latest conversations with the founders, they are expecting between 1,000 to 4,000 watches for their first batch of orders.
Having said that, in my opinion, in today's watch industry and at this competitive price point; we are looking at a very strong contestant in the Micro-brand watch industry. I do expect an increase in pricing for the next releases, but also definitely a step up in your money's worth.
For more information, check their website