Zelos Watches has released their first halo watch model, named The Mirage. The Mirage represents the pinnacle of the company's capabilities, and is a limited edition run of 10 pieces. 
It exudes rarity and class, paying respects to the origins of Zelos, incorporating the spirit of engineering with exotic materials. 
The Mirage is an accessible Swiss tourbillon, boasting many features far above its price tier.
The Mirage's Key Features: 
Movement 
The Mirage features a customised Manufacture La Joux-Perret skeletonised tourbillon movement featuring a flying tourbillon. 
A flying tourbillon is unlike a dual-supported tourbillon. Instead, it is cantilevered and supported only by one side. This feat of engineering requires higher quality standards due to the increased stresses on the support structure, but also provides more unobstructed views to showcase the tourbillon. 
Another engineering accomplishment is the re-designed gear train. Typically situated directly below the tourbillon cage, it has instead been designed to fit alongside. This helps reduce the overall thickness of the movement to barely 9 millimeters, creating a sleeker profile. 
The movement is fully decorated, complete with black PVD mainplates and a curved-grain pattern. Every edge and join has been finely beveled for an remarkable finishing, especially up close. 
The movement boasts an impressive power reserve of 60 hours.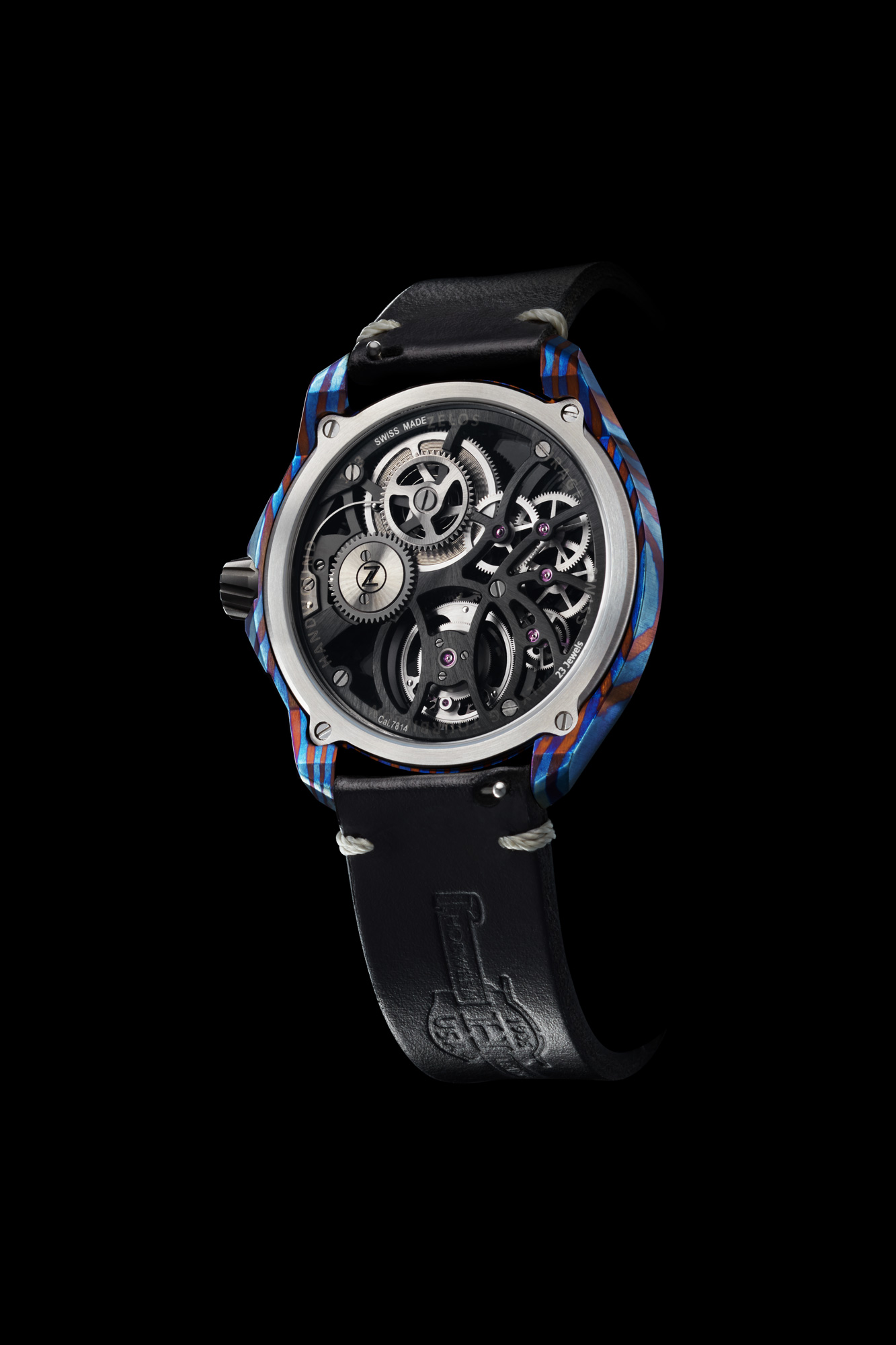 Crystals 
A standard that you should expect with all Zelos watches, The Mirage features a high double domed front sapphire crystal for maximum visibility. The display caseback is also made of sapphire crystal, and both front and rear crystals have anti-reflective coatings applied to the underside. 
The Mirage boasts an incredibly breathtaking "invisible" sapphire crystal dial. This creates a floating effect on the hands, indices, and brand logo, which seem to be levitating in the middle of the watch without supports of any kind. 
A circular window has been cut with much precision to house the tourbillon movement. The complexity of this task, coupled with the extreme hardness and relative brittleness of sapphire crystal, results in a failure rate of over 50%, even when conducted by a master artisan. 
Only sapphire crystal dials that have passed Zelos' rigorous quality checks are used, ensuring the end product is nothing short of perfection. 
The sapphire dial and the accompanying floating effect it produces is an optical phenomenon, reminiscent of the original Latin meaning of the word Mirage: To Look at, to wonder at. 
Case Materials 
Three case options are available: 
Titanium (2 pcs) 
This case material is exquisitely finished with alternating brushed and polished surfaces, providing depth and complexity. It is sleek and inconspicuous, creating an impeccable monochrome outfit for the wrist.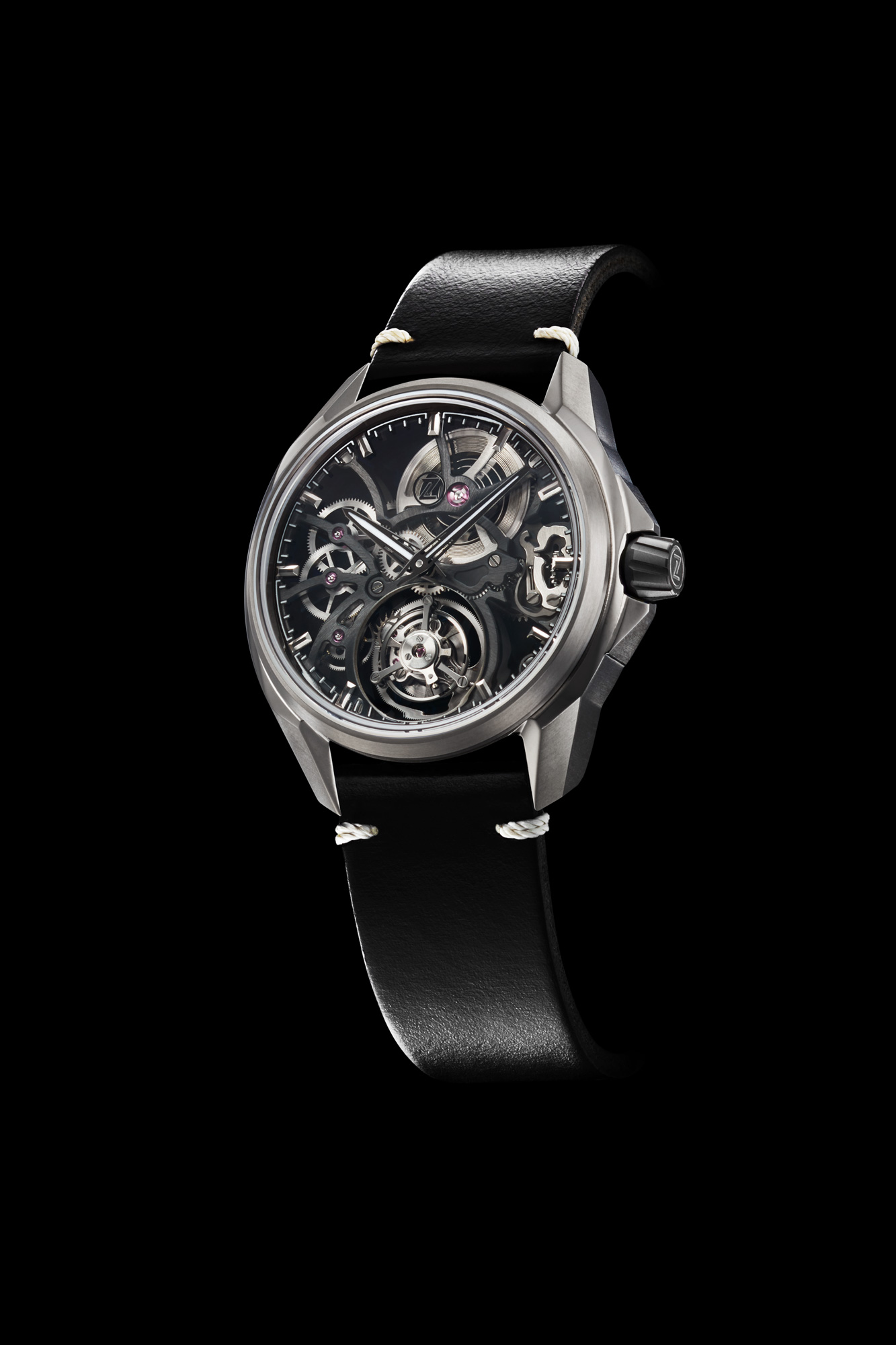 Timascus (5 pcs) 
Timascus is titanium Damascus, boasting all the lightweight qualities of the original element but with a strength far greater. 
This particular variant utilizes Grade 2 and Grade 5 titanium, repeatedly folded and forged to obtain a wave-like woodgrain pattern. 
It is extremely lightweight, is non-magnetic, and corrosion resistant. Timascus forging is a gorgeous fusion of old-world metalworking with modern day technology. 
No other watch in the world has ever used Timascus as a material, to date. There are two colour variants of Timascus available for The Mirage. 
The blue Timascus comprises of stunning blue and silver hues, appearing almost iridescent under certain lighting conditions, complementing the rich, steady cobla tblue. 
The yellow Timascus has alternate streaks of pale sandy bronze coupled with a richer, darker yellow hue. It exudes a certain flamboyant warmth.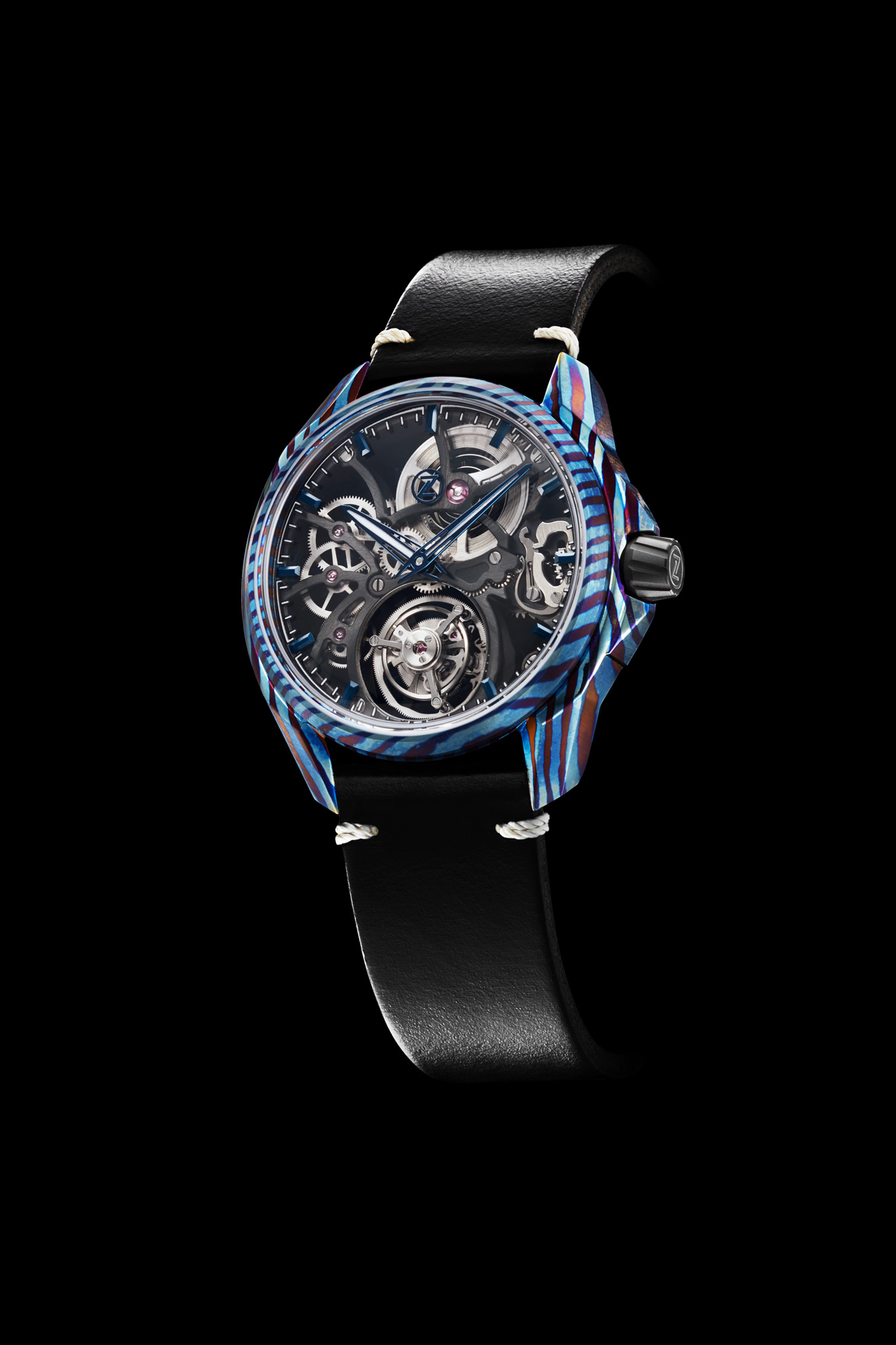 Mokume-gane (3 pcs) 
Mokume-gane is an ancient Japanese metalworking technique that uses folded copper and nickel silver to produce a woodgrain pattern. 
Our Mokume-gane variant utilizes copper and nickel silver to produce a woodgrain pattern. 
A key difference Mokume-gane has compared to Timascus is that it will patina, with the copper portions eventually aging to a beautiful dark red, providing a contrast against the nickel silver.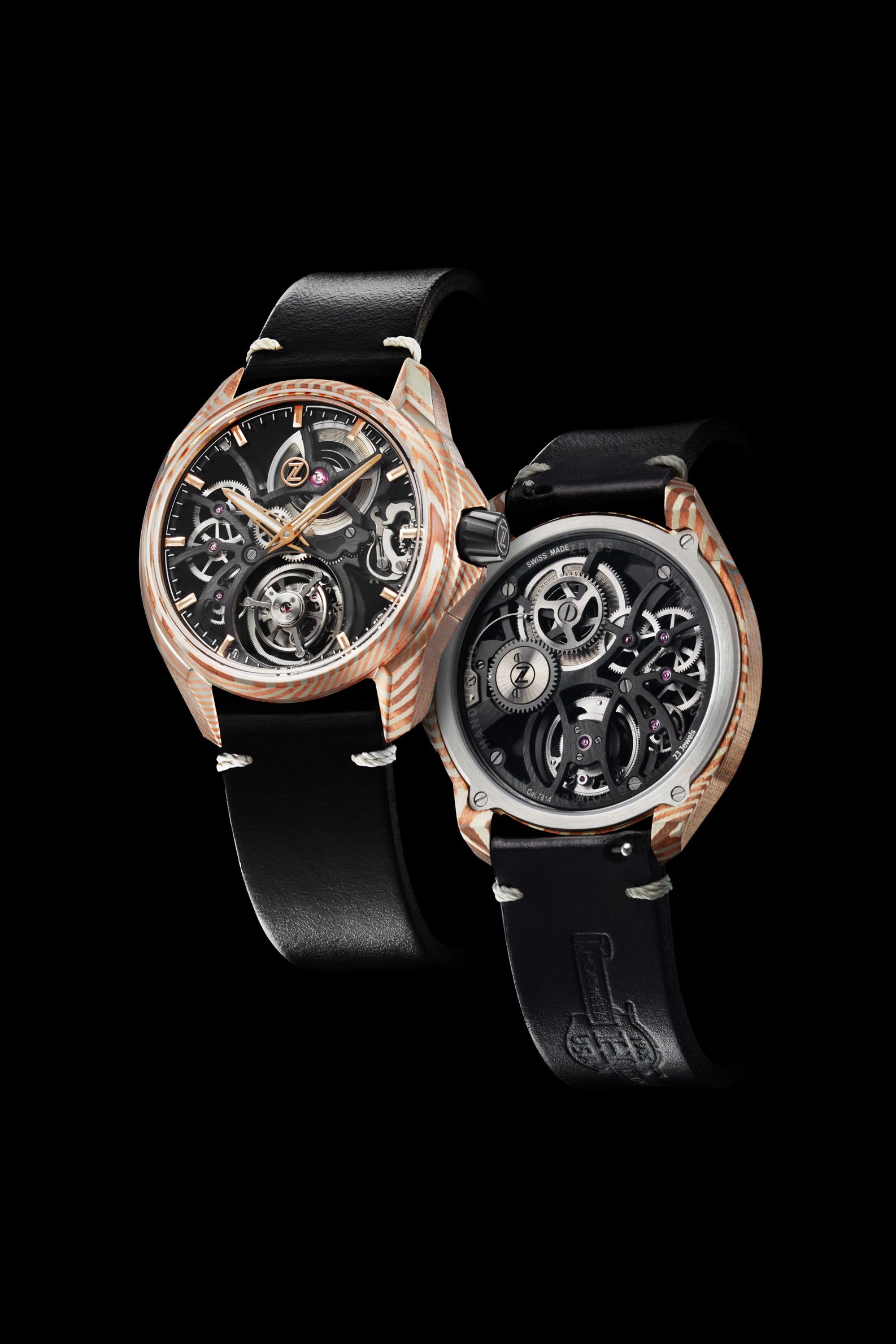 Pricing: 
USD $10,900 (Titanium model)
USD $11,900 (Timascus / Mokume-gane models)
Availability and Launch:
The Mirage will be available for purchase at www.zeloswatches.com
It will be launched on the website on the 9th of June, 10pm Singapore time. Zelos Watches: 
Founded in 2014, Zelos Watches is Singapore watch company helmed by Elshan Tang. The brand has produced more than twenty different models of watches, with over one hundred different colourways in total. 
Zelos Watches has several world-first achievements under it's belt, such as meteorite watch bezels, and the utilization of Timascus as a watch material. 
Manufacture La Joux-Perret: 
Founded in the 1990s, La Joux-Perret is a prestigious Swiss watch movement company located in La Chaux-de-Fonds. Their movements and their variants have been featured in notable brands such as FP Journe, A. Lange and Söhne, Jaeger-LeCoultre, Panerai, and more. 
They produce approximately 50,000 movements and modules a year, including complications such as split seconds, grande dates, and jumping seconds hands complications.